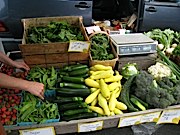 Outdoor Farmers' Market
May 2 to Oct 31, 2020
8:00 AM - 12:30 PM
Court Square
Greenfield, MA
Please visit our news page for latest information about what to expect at the 2020 Spring Market
This week's vendor list is located on our about page.
Greenfield Farmers' Market
Since 1975, the Greenfield Farmers' Market has been providing fresh locally grown products featuring organic and conventional produce, plants and flowers. In addition to meat, eggs, cheese, wine, cider, granola, jams & jellies, baked goods, maple syrup and honey, the market features locally made crafts such as quilts, herbal ointments and salves, home-made soap and handcrafted clothing with nature-inspired themes. Our food vendors serve delicious fresh and pre-prepared foods; come for breakfast or lunch and enjoy your food on the Common as you listen to music from 10 AM to Noon. Stay in Greenfield for more shopping or dinner at one of our fine dining establishments, many of whose menus are created from the same locally-sourced products available to you at the Market.
The market is held in season on Saturday mornings from 8:00 AM – 12:30 PM in Court Square in downtown Greenfield, Massachusetts. The Greenfield Farmers' Market accepts Debit Cards, Credit Cards and SNAP-EBT cards; SNAP shoppers can buy directly from several of our vendors who are HIP-approved in order to earn HIP reward dollars. Tokens can be purchased to shop at the Market with Credit and Debit cards and for SNAP-EBT shoppers as well. Visit the Manager's booth to purchase tokens, tee-shirts, sweatshirts, shopping totes, Tater Tats and to sign up for our mailing list. Parking is plentiful on the street, in Greenfield's city lots and in the new Olive Street Garage. Parking meters offer 30 minutes per quarter.
Come by the manager's table and pick up a Frequent Shopper card. Each week that you shop at the market, your card will be stamped. After 6 visits, turn your card in at the manager's table and be entered into a raffle to win a basket full of market vendor goods.
Stop by our booth to say Hello to Market Manager Sue Lahoski and Assistant Manager Trouble Mandeson.
---
---
Below you will find links to the Greenfield Summer Market application form and guidelines: