Greenfield Farmers Market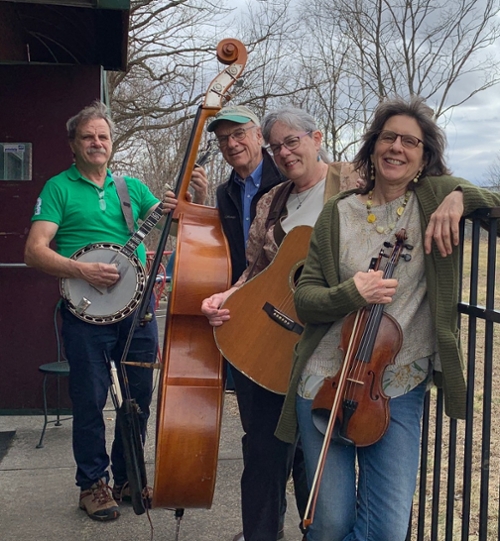 Saturday, July 23, 2022, 8:00 am until 12:30 pm
Court Square, Greenfield, MA
And just like that… we are more than halfway through July! This week at the market we are jam-packed with vendors!
Music this week: Ragged Blue is John Rough on banjo, Corki Demers on fiddle & mandolin, Joe Blumenthal on bass, and Terry Atkinson on guitar. Bluegrass, Celtic, Old-time, originals, and re-imaginings of popular songs, including tantalizing harmony vocals.
July 23rd Fruit Report: At the market this week we will have fresh blueberries from Drowsy Dragon and a limited supply of raspberries from our produce vendors (availability varies). Clarkdale Fruit farm will NOT be at the market this weekend but will return the next.
Check out the vendors that will be at our packed market on Saturday!
Area 51 will be serving up hot breakfast and lunch all season long. They joined our market in 2021 and we haven't been hungry since. Stop by for fresh menu items every week, made from seasonal food items. They will have a rotating menu of breakfast options, soups, and sandwiches.
Located right here in Greenfield, Beacon Botanicals brings fresh flower bouquets and plants to the market. Find them about once a month at the market!
Devon and Beaumont's Berries bring fresh jam to our market. She offers no or low sugar jam, and honey based jam using only locally grown fruit that is grown at her home farm in Conway or by other local farmers in the Pioneer Valley.
Greenfield is so lucky to have farmers like Bostrom Farm, who brings fresh, grass fed beef, pork, and ham to our market every Saturday. Stop by for their select products, which may change slightly each week.
Checkerspot Farm will join the market mid-summer with Native plants for private gardens: Eastern Prickly Pear Cactus, Bearded Tongue (several varieties), pussy toes, Virginia Strawberry, Wild Bergamont, Rose Milkweed, Purple Coneflower, blue-eyed grass, Bottlebrush grass, Inland sea oats, Allegheny monkey flower, Great lobelia, Cardinal Flower, Steeplebush, Nine bark, Columbine, Ironweed, New England Asters... and more!
Every other Saturday you will find Cootware Aparies' fresh, local honey. You'll also find handcrafted ceramics, artwork, and jewelry.
Drowsy Dragon Farm is a small certified organic berry farm in the hilltowns of Western Massachusetts. We also grow 11 varieties of certified organic microgreens, and we make low-sugar jam and syrup with our berries.
Great Falls Aquaculture will bring seafood products to the market twice a month. They will have smoked Barramundi and Fish Brew products available
Hart Farm is a woman run farm located in the hills of western MA. Growing on 2 acres, Hart Farm is small yet abundant. By using both traditional and modern growing practices, the farm maximizes efficiency with a small labor team and maintains beautiful and bountiful fields. The farm implements low-till methods and uses both organic and non-GMO seed and grain and organic fertilizers and pest deterrents in order to maintain naturally organic and nurtured produce.
Just Roots is a tenacious and equity focused organization with a goal to change the food system by creating equitable access to healthy, local food in Western Massachusetts, and working toward just, vibrant, and sustainable farm and food systems everywhere. At the market, you will find culinary herbs, vegetables, fruit, dry goods, and Just Roots merchandise! Vist their vendor page for the full list of products available.
Lyonsville Farm is a woman-owned 3 acre farm in Buckland. We grow a wide range of vegetables, flowers, and plants using organic practices. Raspberries, strawberries, herbs, vegetables, starts, annuals, perennials, fresh and dried flower bouquets, eggs.
Nuthatch Studios creates handprinted fabric, useful art. Susie Secco designs and carves printing blocks and then print on fabric or paper. Her handprinted fabric items include table linens, kitchen accessories, bags, pillows and clothing. Most recently she has begun printing cards.
Stop by the P'Frogi booth for handmade from scratch pierogi. Each week Irida will offer a variety of fillings, some seasonal. Along with pierogis, you can find handmade golabki. Both are sold frozen, ready to heat and eat!
PK Industries brings annuals, perennials, jams and jellies to our market every Saturday.
Sunrise Farms is a 5th Generation family owned and operated Maple Farm in Colrain, Ma. Our Syrup is boiled in a state of the art electric Evaporator that is offset with renewable, zero carbon solar arrays right on the farm. We currently offer a full range of Organically Certified Maple Products including Maple Syrup, Cream, Candy and Sugar. Maple Syrup & rhubarb, fire wood, pumpkins, gift baskets, small tree saplings, maple candy, cream.
Sweet Pea Cottages and Eveline MacDougall creates unique paper crafts and textile arts using both new and recycled materials. Her handcrafted cards and envelopes are treasured by many who send and receive them. MacDougall creates woolen hearts of various sizes, some with inspirational messages, and offers sock and woolen repair through her venture known as "Darn-it-all"!
The People's Gold crafts herbal remedies for everyday use. We source from local, organic herb farmers and ethically wildcraft to make high-quality bioregional products that inspire a deeper personal connection with nature.
Three of Cups Trading provides boutique services and crafts. We offer Tarot and palm readings alongside fine local ceramics, hand crafted housewares, and a small selection of new age products. We aim to surprise and delight you week to week with a rotation of goods from local artisans and collectors.
Twist Dab & Throw brings 30+ years of painting and drawing experience ranging from Venetian style ceilings and wall murals to still life, landscape, and portraiture.
Underline Farm is a small-scale regenerative farm in Easthampton, Massachusetts producing pasture-raised meat and eggs using organic methods. At the Greenfield Market, youl will find frozen whole chickens and cuts.
Posted to: Saturday Markets.