Hart Farm
585 South Shirkshire Rd, Conway, MA
(413) 453-9098
Visit: website,
*Accepts SNAP/HIP - CSA available
Vegetables, currants, blueberries, gooseberries, raspberries, early greens, eggs from chickens fed non-gmo local grain, fruit popsicles.
Start your Saturdays fresh! Please use the search bar below to find a vendor. You can search vendors by name or products. Scroll down to read through our full vendor list.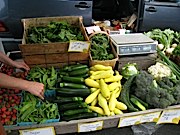 Outdoor Farmers' Market
May 1 to Oct 31, 2021
8:00 AM - 12:30 PM
Court Square
Greenfield, MA